Neptune in Pisces
1

Chiron Pisces Scar Tissue
2
Uranus square Pluto 2012
3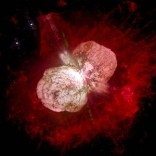 Mars Libra retrograde and the Cardinal Cross "Radioactive" Imagine Dragons Mars Libra makes its grand entrance December 8th during the 1st Quarter Moon and goes retrograde March 2 2014, moves direct May 20th 2014 with a stay in Libra releasing and finishing its run July 25th 2014.  The key degrees to look at are 27 degrees Libra where Mars goes retrograde and 9 degrees where...
Read More
New Moon in Sagittarius December 2013–Promising the Moon The New Moon in Sagittarius opens up new opportunity and expansion.  Jupiter ruled Sagittarius is off on the blue yonder wanting to reach past the everyday mundane.  Sagittarius is a mutable fire sign, flexible and able to bend with the wind with a nagging itch to keep growing, embracing more where the  grass seems...
Read More
Full Moon in Taurus November 2013 over Algol.  "The bitch is back". ...